They often say a picture tells a thousand words and those images of Mihlali and Leeroy in matching outfits only told one thing — they were either getting married or there were lobola negotiations taking place.
But when other guests rocked up wearing traditional outfits it almost looked like they were celebrating their union. But, we saw others like Kefilwe Mabote wearing casual outfits like jeans and jackets.
Her friend Bobby Blanco revealed that they had attended a housewarming party.
With all this speculation, Leeroy finally set the record straight and explained what was happening at his home. He said "My friend as much as you always wish well for me, for the record it was never a wedding, lobola or home warming party or anything to do with my relationship with Mihlali. It was just umsebenzi wam enguwenza every year in memory of my mother who passed on."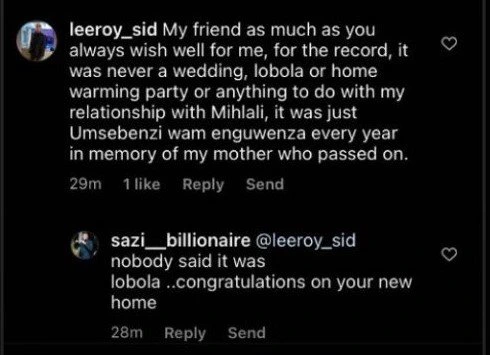 Maryjane's friend Tumi went on a heated rant on Instagram stories, exposing Leeroy of not signing the divorce papers, and for not removing her pictures from his Instagram account.
"I'm so tired of people watching this from a social media lens without knowing the truth. Also, what's shocking? Going through his old matches with MJ and the doll matched this orange number. I could never want someone's life so bad."
"The only thing that's about to piss me off is how they are going to post my friend's kids without her consent as one big happy family that's gonna piss me off. My friend's kids being posted for social media scores," she wrote.
She then slammed Mihlali and called her out for being around Maryjane's kids without her being properly informed or introduced. "They will know where their bread is buttered. They have no choice but to participate…They did the same thing with Mohale. Corroboration on sordid stuff is their thing," she wrote.
Social media users came with their own opinions on this matter